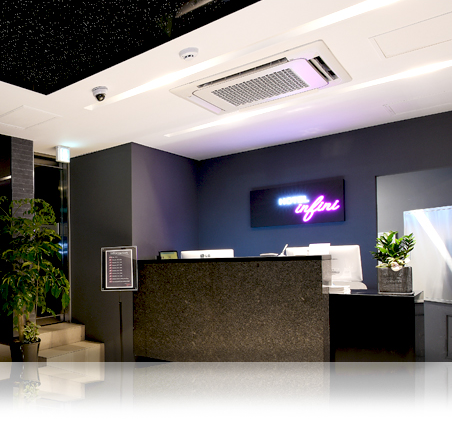 We are ready to satisfy you with the
best facilities

and the

best service.

Opened in December 2015, Hotel Infini is ready to delight you with the best facilities and the best service.

The Provence & Zen Suite are equipped with the best facilities for couples, families, and business trips, including an outdoor Hinoki Cypress hot tub to fit the atmosphere of a luxury hotel. And double rooms will feel like home and comfort. The American twin and double rooms are designed with a modern feel that will give a sense of home and comfort.
Convenient locations for business and tourism
Well-known areas that are close by include Seokchon Lake, Lotte World, and COEX. The hotel is adjacent to a variety of convenient public transportation including subway lines 2 and 9 for convenient sightseeing and shopping. Hotel Infini has the perfect conditions for business and tourism, and with our high-speed internet and modern interior deisgn, we hope that Hotel Infini offers the comfort to create amazing memories in the city.